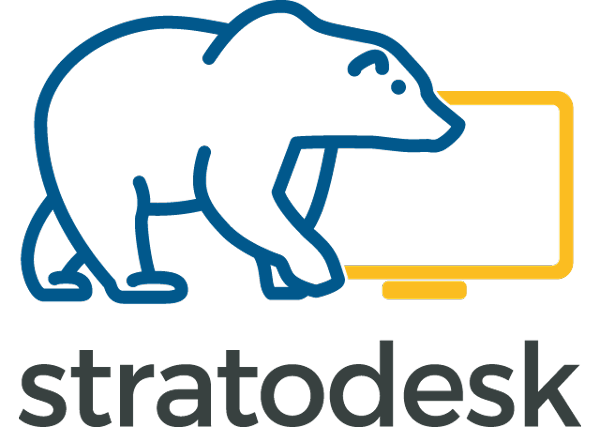 VMblog: As a Citrix Synergy 2018 sponsor, give us the rundown of your booth setup this year. What's your booth number? What level sponsorship do you have? How many people will you send? Where are you located?
Stratodesk: Stratodesk will be located at booth #508 at Citrix Synergy this year in the Anaheim Convention Center. Our team of knowledgeable tech professionals will be present at our booth, showing live, in-depth technical demos of NoTouch Desktop. Learn how our #1 VDI endpoint OS and management solution helps you unlock the full benefit of your Citrix VDI from the people who know best!
See NoTouch OS, the secure, Linux based, HDX ready operating system that connects to Citrix XenApp and XenDesktop as well as other VDI environments, andNoTouch Center, the enterprise grade, browser based administration software that helps IT administrators control, manage, configure and update all their endpoints from one central location.
In addition to NoTouch Desktop, attendees who stop by booth #508 can expect to see theCitrix Ready Workspace Hub -the Raspberry Pi based endpoint. Powered and centrally managed by Stratodesk's software, the Citrix Ready Workspace Hub is the next generation endpoint for Citrix VDI and workspace IoT.
You can also expect to learn more about:
NoTouch PC Repurposing - Repurpose your PC, Laptop, Thin Client or Raspberry Pi devices into high performing endpoints with NoTouch OS. NoTouch OS is hardware agnostic and runs on the most cutting edge devices.
NoTouch IoT - Incorporate Raspberry Pis into a fully managed IoT network with NoTouch IoT. Learn more about how to unlock new possibilities for innovative enterprise IoT use cases with NoTouch IoT. NoTouch fully supports Node-RED and integrates with Microsoft Azure IoT.
Imprivata Support - Learn how healthcare organizations are leveraging the power and convenience of Imprivata on NoTouch Desktop. Experience Single Sign-On, Fingerprint Authentication, and more.
Also learn how you can get a swag bag and Starbucks gift card when you sign up tomeet with us in advance.
VMblog: What message should an attendee take back with them to their boss after visiting your booth? How can they internally sell your technology?
Stratodesk:
Stratodesk is the #1 endpoint solution for Citrix on any X86 endpoint device and powers the new Citrix Ready Workspace Hub. In addition to Citrix, Stratodesk also fully supports many VDI environments such as VMware, Oracle, Microsoft, DaaS and Single Sign-on Solutions by Imprivate and others.
Stratodesk dramatically reduces costs for enterprise IT. Instead of purchasing new hardware, repurpose your existing endpoint devices into powerful VDI or Cloud terminals or use enterprise-ready, fully manageable low cost endpoints (Workspace Hub/ Raspberry Pi) for your endpoint needs. No recurring antivirus or 3rd party management tool payments for PCs required.
Stratodesk's endpoint management solution, NoTouch Center, is an intuitive and highly scalable enterprise grade management suite with outstanding, CIO-proof reporting features and the only management solution that manages x86, ARM and Raspberry Pi devices for VDI and IoT in one single pane of glass
Stratodesk ensures security on the endpoint (no local Windows needed).
Stratodesk frees you from vendor lock-in. Retain complete control over what hardware you choose to buy.
VMblog: Can you give VMblog readers a sneak peek as to what you will be showing off at your booth this year?
Stratodesk: Attendees who visit us at Citrix Synergy will get a first hand look at how Stratodesk is revolutionizing VDI endpoints. Join us for a live demo of NoTouch Desktop's most advanced capabilities including:
See the Citrix Ready Workspace Hub live. Learn about this next generation device from the makers of the OS.
How to easily convert any PC, laptop or Thin Client into a smart, secure VDI endpoint.
How NoTouch unifies endpoint devices with one single high performance OS along with a management solution for all your devices (X86 and ARM/Raspberry Pi)
Full HDX support (Skype for Business, H.264 acceleration.)
How to manage your VDI endpoint network with the superior, centralized management tool, NoTouch Center, that offers all the outstanding management features YOU need (reporting, scripting, easy deployment, updates, etc.)
VMblog: Why should a Synergy attendee add you to their MUST SEE list?
Stratodesk:
NoTouch is the #1 endpoint management solution for both VDI and IoT, and the only one capable of managing a mixed environment of both x86 and Raspberry Pi devices.
Our software powers and manages the Citrix Ready Workspace Hub.
Our booth will have knowledgeable members from our tech team present to give in-depth demos of our technology.
VMblog: Give readers a few reasons why your product or service is considered unique.
Stratodesk: Stratodesk is the #1 endpoint OS and management solution for VDI and IoT. Delivering security and convenience, we are the endpoint OS and management solution for the future -which is why enterprises rely on us to be more flexible, scalable and reliable than any other solution on the market.
Stratodesk runs on almost any x86 device out of the box, with minimal hardware requirements. Our multi-kernel operating system (same look and feel but different Linux kernels) guarantees flawless, easy installation and comprehensive peripheral support for a wide array of x86 hardware. Stratodesk also powers ARM/Raspberry Pi devices and is the OS of the Citrix Ready Workspace Hub. Stratodesk's OS supports smart card readers inclusive government used CAC or PIV cards and various Single Sign-On solutions including Imprivata. NoTouch Center is intuitive, easy to learn and feature rich, and comes with a huge product knowledge base and outstanding support by our support techs, no matter if you buy two or two thousand licenses.
VMblog: How does your company and product fit within the Citrix ecosystem?
Stratodesk: Stratodesk is the top endpoint OS and management solution for your Citrix VDI and fully compatible with XenApp and XenDesktop. Our software was also chosen by Citrix to power the Citrix Ready Workspace Hub.
NoTouch supports Citrix USB device forwarding, local printers, storage (USB sticks/ thumb drives), smart cards (including CAC). Multimedia is supported on the client with Citrix HDX features - everything Citrix XenApp/Desktop has to offer -most notably Flash redirection and Microsoft Skype for Business optimization.
Stratodesk was also theCitrix Ready Partner of the Month for November 2017. You can read more about how Stratodesk and Citrix are working together to benefit your VDI on the Citrix Ready partner blog.
VMblog: Attendees always enjoy a good trade show tchotchke. Are you guys giving away anything special or interesting this year?
Stratodesk: This year, Stratodesk will be offering a special gift to Citrix Synergy 2018 attendees who sign up in advance.RSVP for a demo of NoTouch and receive a Starbucks gift card after your demo. And don't forget to stop at our booth for the cutest giveaway of the show: the Stratodesk polar bear keychain, or a Stratodesk shirt.