---------------------------------------------
VMunderground 2022
WHEN: Sunday, Aug 28th, 7:00pm - 11:00pm
Location: Black Hammer Brewing, 544 Bryant Street, San Francisco, CA 94107
VMware Explore is a long week and we want to give the community a chance to get together with old and new friends to kick-off the week in a relaxed, friendly atmosphere to set the week off right

This year, we'll be selling tickets—approximately one month out—for $10/ea. As usual, we're going to limit the number of tickets available to any one purchase in order to allow more people access to the event. You're also encouraged to contact the sponsors and start a conversation that could net you a free pass.
Cost: $10.
---------------------------------------------
Carahsoft Government, Education & Healthcare Customer Reception

WHEN: Monday, Aug 29th, 7:00pm - 9:00pm
Location: Novela, 662 Mission St., San Francisco, CA 94105
Join Carahsoft and the VMware Government, Education and Healthcare teams on Monday, August 29, 2022 for drinks, hors d'oeuvres, and networking.

This event is only open to VMware U.S. government, education and healthcare customers with VMware Explore passes. You must bring your VMware Explore badge at the time of the event to enter.
Cost: Free.
---------------------------------------------
CONVERGED User Group Meeting at VMware Explore US
WHEN: Monday, Aug 29th, 7:00pm
Location: Fogo de Chão Brazilian Steakhouse, 201 3rd St #100, San Francisco, CA 94103
The CONVERGED User Group will be returning in-person to VMware Explore US for one of our most anticipated meetings of the year! We invite you to join us on Monday, August 29, at Fogo de Chão. You can expect to hear from incredible speakers, updates from Dell experts and valuable networking with the community over drinks and dinner. Spots are limited, so register today!
Cost: Free.
---------------------------------------------
VMUG MEMBER PARTY AT VMWARE EXPLORE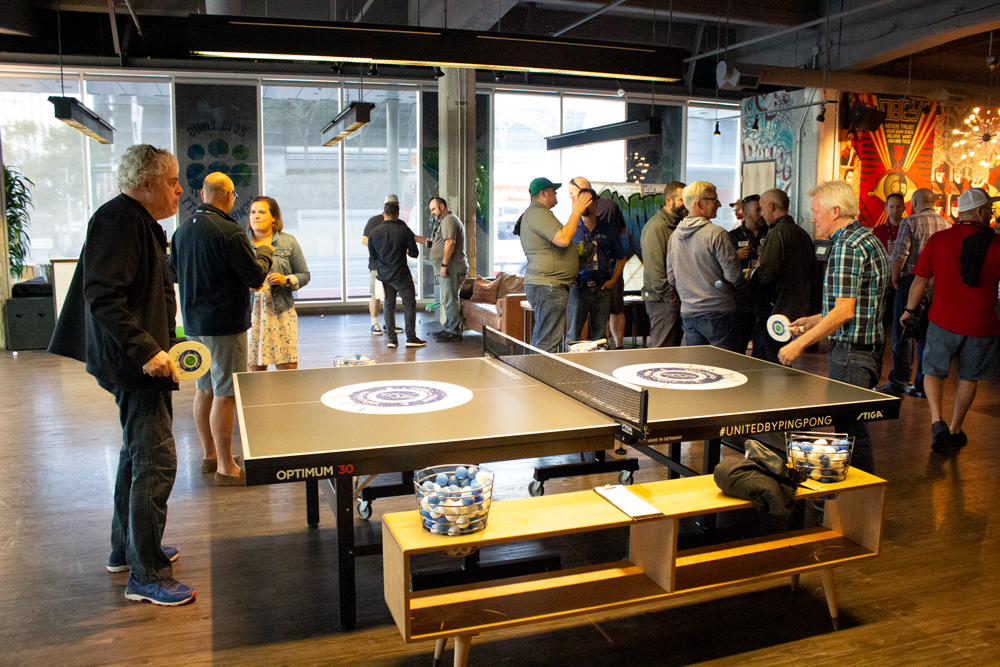 WHEN: Monday, Aug 29th, 7:00pm
Location: SPIN San Francisco, 690 Folsom Street, San Francisco, CA 94107
Attend the VMUG Member Party and have the best time while you're in San Francisco! Meet your VMUG President, have face-to-face conversations with your peers and network with other industry experts. Onsite there will be a ping pong tournament with a special prize for the tournament champion. It's been over 2 years since we've all been together. Now is your time to rediscover the power of the VMUG community.
Food and drinks will be provided. You must show proof of VMware Explore registration to attend.
Cost: Free.
---------------------------------------------
Liquidware, IGEL and LG Takes You Out to the Ballgame
WHEN: Monday, Aug 29th, 5:45pm
Location: Oracle Park, 24 Willie Mays Plaza, San Francisco, CA 94107
Join your friends at Liquidware, IGEL and LG and take in the San Francisco Giants game for this casual, End-User-Computing networking event while we are at VMworld Explore. The Audi Legends Club opens at 5:45 p.m. and first pitch is at 6:45 p.m. PDT.

Don't worry, we won't be throwing any curve balls. This is an exclusive opportunity for Senior EUC leaders attending VMware Explore to connect with the folks at Liquidware, IGEL and LG and with each other!
Cost: Free.
---------------------------------------------
Work Hard, Play Hard with ControlUp, IGEL, and LG!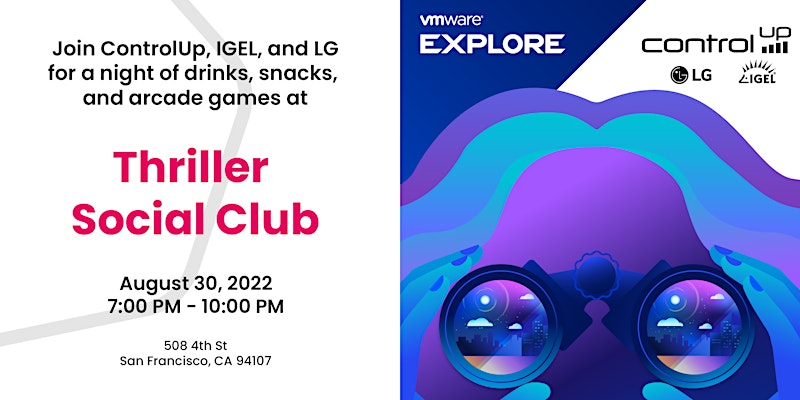 WHEN: Tuesday, Aug 30th, 7:00pm - 10:00pm
Location: Thriller Social Club, 508 4th Street, San Francisco, CA 94107
We cordially invite you to join us, the whole ControlUp crew, along with our friends at IGEL and LG at Thriller Social Club for a fun-filled night of great drinks, great snacks, great music, and great swag, not to mention loads of arcade games (every guest will get a $20 game card so they can go full tilt)! Not gonna lie, we are more than a little excited to be around people again and we can't wait to see you!
Cost: Free.
Veeam's Legendary Party at VMware Explore US 2022 ft. WALK THE MOON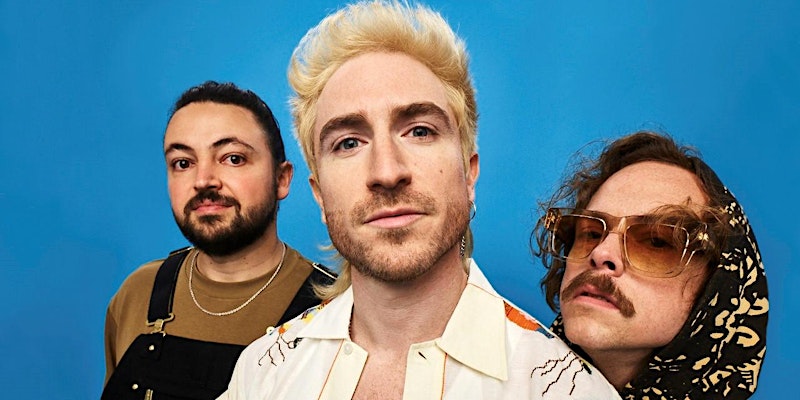 WHEN: Tuesday, Aug 30th, 8:00pm - 11:00pm
Location: August Hall, 420 Mason Street, San Francisco, CA 94102
Join us Tuesday night at August Hall for Veeam's Legendary VMware Explore Party! Live entertainment by WALK THE MOON. This is sure to be Veeam's MOST LEGENDARY VMware Explore party yet!

Required: VMware Explore 2022 Badge is required for entrance and will be scanned at the door. Must be 21+ years of age with ID (Passport required for international guests)
Cost: Free.
---------------------------------------------
Join NetApp for a VIP Happy Hour at VMware Explore 2022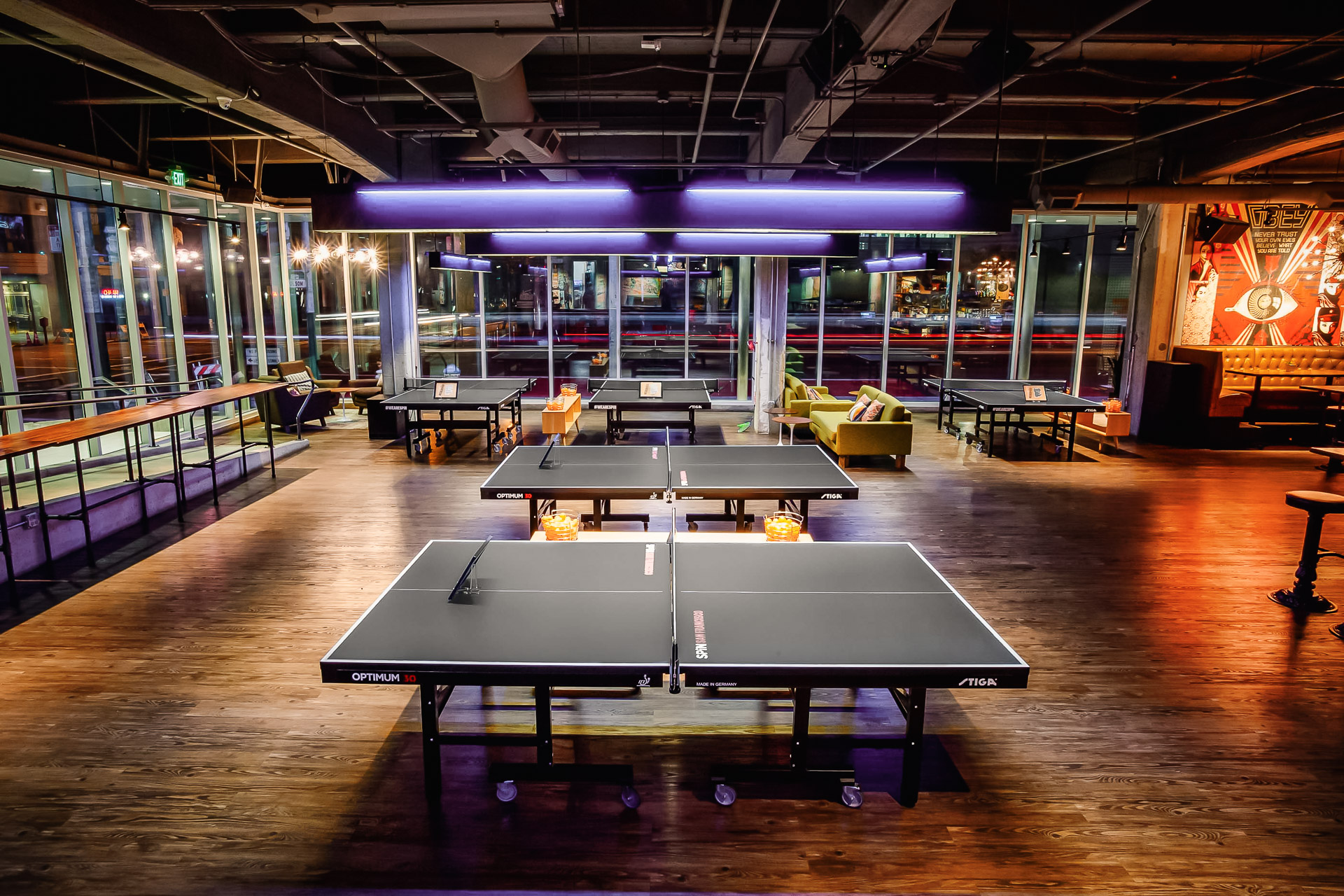 WHEN: Tuesday, Aug 30th, 7:00pm - 10:00pm
Location: SPIN San Francisco. 690 Folsom St., #100, San Francisco, CA
Say yes to an exclusive invitation to fun, fresh connections and your roadmap to multicloud success. NetApp is hosting a VIP Happy Hour on August 30, and you're invited.
This is not your typical happy hour. Enjoy Ping-Pong, appetizers, and a drink from the bar while kicking back and catching up with other NetApp customers and partners.
Cost: Free.
---------------------------------------------
Happy Hour with Insight, VMware, NetApp & NVIDIA
WHEN: Wednesday, Aug 31st, 6:00pm - 8:00pm
Location: Wine Down SF, 685 Folsom St, San Francisco, 94107
As part of VMware Explore 2022, you're invited to join us for Happy Hour at Wine Down SF. Enjoy food & drinks while getting to know the Insight VMware, NVIDIA & NetApp team.

Space is limited, so reserve your spot.
Cost: Free.
---------------------------------------------
Official VMware Explore Party
WHEN: Wednesday, Aug 31st, 7:00pm - 10:00pm
Location: Chase Center
It's 2022 and we're back in San Francisco! Join us as we discover the Best of the Bay at Chase Center. Local artists, local eats, local sounds—we've got it all. Upon arrival, experience an awe-inspiring mushroom forest designed by Shrumen Lumen, on exhibit for the first time ever in San Francisco! Looking to feast? Take your pick from SF classics: Gott's Roadside, Tacolicious, Bakesale Betty's and more! In the arena, surprise local performers and musicians will keep us dancing through the night.
Cost: Free.