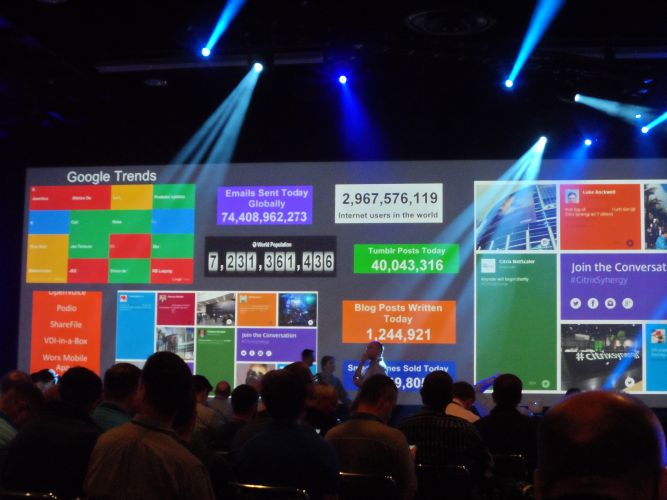 They started with "The iBand" playing a few songs using ipads and other mobile devices to rock live on the stage. They did experience a little lag at some points during the performance but not bad for doing it live.
At 9am the Keynote kicked off with with Mark Templeton (CEO of Citrix) taking the stage dancing and lip syncing to "Happy" by Pherrel Williams. Mark started by announcing the following:
81 Sponsors of Synergy this year, 10,000 registered attendees, 300 hours of sessions, 66 countries.

Partnership around Intel, HP and Citrix.

Ultimate Mobile Device = You

Innovation Awards: Autodesk, Taco, Westpac Bank and BT Global Services were nominated.

Autodesk wins the Innovation Award.

1.4 Million business-ready desktops delivered by CSPs, SIs, ISVs and Solution Advisors

100 Infrastructure CSPs
Next up was Neil Lock – BT Global Services Director, BT Computer
Built most globally diverse choice of cloud services delivered in 12 months and delivered locally.

300% growth as a service provider.

BT Compute Managed Services has 4 parts – Cloud Solutions, Brokering & Cloud Aggregation, Cloud Infrastructure, and Cloud Enabling.
Next Mark Templeton took the stage and talked about the BT relationship:
FileShare – 45,000 business customers and went from zero to 1 Million licenses in less than a 18 months.

With 2 Customers with more than 75,000 employees.

Mark shared a story about a vault in Iraq where the enemy tried to break into a vault and used every explosive in their arsenal to try and breach it with no success. A team later calculated that if they had just changed their point of view by 90 degrees they would have been able to enter the vault with only 10% of the explosives that they used. Point being - Looking at things with a different point of view is important.

Mark gave us a flashback to him in Engineering school and discussed what .

Mobile Workspace – productivity and agility for people, business and IT.

People don't join organizations - Organizations join people

Citrix Receiver comes in 3 flavors

Apps – Native apps (Mac, iOS, Blackberry, Windows Phone)

Browser – Safari, Chrome, iE, Firefox

Appliances – TCO and Agility (like AppleTV)
Video from Google – Ahmed speaks about BYOD and chromebooks and about working closely with Citrix to bring you joint innovation.
Chrome OS Receiver – Tech Preview Q3'2014 will enable Printing, USB, clipboard, touch, webcam and 2-way audio.
Next Marcel Calef – Senior Software Engineer, gave a Demo of a 3D application using the local GPU for rendering on a Virtual Desktop. He also mentioned that Citrix is in the process of converting from DirectX to OpenGL so that it can work on Mac clients.
MACs are becoming a bigger part of the BYOD market.
Citrix Receiver release X1 – Putting Experience First. One touch access to your mobile workspace.
Unified backend infrastructure with HDX & MDX support with new UX architecture.

Customize – your Branding

Dynamic – New smart categories, device and role context.
Richard Hayton – Receiver Architect & Magician gives a demo of the new Citrix Receiver release.
Old ways - Office | Company | Wired | Monolithic | Suites | Premise
New Reality – Mobile | Personal | Wireless | Mash-up | Stores | Hybrid
Connecting People that have tasks to do with the apps and data that they need to complete the task. This is what we are trying to do.
Problem – How do you provide Experience first in a world of hybrid devices and services.
Answer – Don't own Stuff as a strategic idea and focus on the services that connect them.
Next they showed a video about a winery and how they are using receiver. Unfortunately it was in spanish and the subtitles where down too low on the screens for anyone to see them from where they were seated.
Steve Daheb, CMO
(http://www.citrix.com/about/executives/steve-daheb.html)
Started with the Cloud, next came mobile and now we are in the age of experience, where performance and connectivity is important.
Steve talked about how everything is tied together to create an exceptional user experience in the mobile workspace.
Apps Data Collaboration
Next up was Catherine Courage - SVP, Customer Experience
(http://www.citrix.com/about/executives/catherine-courage.html)
Anticipate | Empower | Seamless
The Workspace Experience Demo
Brad Peterson – Senior Director Business Development, Chief Demo Officer

Worx has added Mail & Calendar integration that allows you to join a meeting by dialin with just one touch (automatically dials and enters the meeting pin). Also has Running Late which allows you to open an email addressed to everyone invited to the meeting to let them know you are running late.

WorxNote preview – Capture, Store and Share notes. Notes can capture text, photo and audio and store to FileShare.

ShareFile – integrates with Dropbox to allow you to move items from Dropbox into the private ShareFile area allowing you to separate "personal" vs. "business" data.

WorxDesktop – Allows you to connect to a remote computer and edit documents remotely from an iPad. Allows you to run non-native applications on any device.
Steve Daheb talks about the key components of the workspace.
XenDesktop

XenApp 7.5

Demo from Brad Peterson shows an application from Autodesk running on a beefy remote server delivered to both a chromebook and an ipad with no change in UX using XenApp.

XenMobile 9

WorxNote | WorxDesktop | WorxEdit available in Tech Preview

ShareFile

NetScaler 10.5 announced

5x improveent in mobile app performance

Deep visibility into mobile network traffic

TriScale 2.0

Workspace Suite released and available today

Trade-up Promotion 70% savings

50% off for VMware Horizon & View customers
To finish out the keynote an emotional Mark Templeton took the stage once again and discussed the history of Citrix and where it's going in the future.
1989 to 2014
Remote Access > Virtualization > Networking > Collaboration > Cloud > Mobile Workstyles
2014 to future
Device & network independence

Any to any, secure by design

Consumer-like
Culture + Empathy
Leaving the world a better place than the way we found it.
Citrix Workspace Services using Microsoft Azure
Brad Anderson, Corporate Vice President Cloud Services talks about the partnership between Microsoft and Citrix.
Mitch Parker, GM and VP Workspace Services group
First look at Citrix Workspace Services - Browser Login