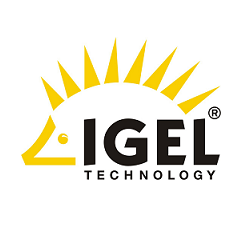 VMblog: Your company is sponsoring Citrix Synergy 2016. How can people can find you at the show?
IGEL: Yes, IGEL Technology is sponsoring Citrix Synergy 2016 with a Gold-level sponsorship package. We will be located in Booth #755G, which measures 20 x 20 feet.
VMblog: Anything interesting going on at your booth this year?
IGEL: During Citrix Synergy 2016, IGEL is participating in the Unidesk "Passport" program. During the event, attendees who visit participating booths will receive a passport, and once they've filled it up, they can then return it to the Unidesk booth and be entered into a drawing.
VMblog: Attendees really like those passport programs. So once they visit your booth, what message about your product can you send them back with to sell their boss on your technology?
IGEL: By leveraging the power of IGEL's workspace management software, organizations can re-purpose existing hardware, effectively protecting the investments they have made in end-user computing and alleviating any apprehension when it comes to transitioning from PCs and mobile computers to a thin client environment.
IGEL also eases workspace management by making it possible for IT organizations to effectively run their desktop environments alongside the mobile devices used by their workers, regardless of whether they are using IGEL or non-IGEL devices.
VMblog: With so many vendors exhibiting at Synergy this year, why should an attendee put you on their MUST SEE list?
IGEL: IGEL is an important part of the Citrix partner ecosystem, and businesses that are looking to simplify the remote management of their desktops and mobile devices, or transition more smoothly to a VDI environment won't want to miss the opportunity to take a look at IGEL's workspace management solutions, including the UDC, UMA and UMS software.
VMblog: What do you like most about sponsoring Citrix Synergy?
IGEL: For many years now, IGEL Technology has maintained very strong ties with Citrix and is an integral part of the Citrix Ecosystem. Our participation in Citrix Synergy has provided us the opportunity to build greater awareness for the IGEL brand, and establish stronger connections with both partners and customers. It is a "must-sponsor" event for us because each year we are able to reconnect with many of our existing partners and customers, and always walk away with a great list of new prospects for the coming year.
VMblog: Can you give VMblog readers a sneak peek as to what you will be showing off at your booth this year?
IGEL: During Citrix Synergy 2016, IGEL Technology will be demonstrating several thin client models including its UD3 LX, UD6 LX, UD10 LX and its recently introduced UD9 LX. What Citrix Synergy attendees will be most interested in, though, are the demonstrations of IGEL's suite of workspace management solutions.
On display during Citrix Synergy 2016 will be the IGEL Universal Desktop Converter (UDC) software, which enables IT organizations to convert Dell Wyse 500 and 7000 series thin clients; previous generation D and Z class thin clients; thin clients from other leading manufacturers; and, x86-based desktop computers or notebooks running any Linux, ThinOS or Windows Embedded operating system, into an IGEL thin or zero client running Microsoft Windows Embedded Standard 7 or the IGEL Linux operating system.
IGEL will also demonstrate the capabilities of the IGEL UDC, along with the IGEL Unified Management Agent (UMA) software, which is designed for organizations running Microsoft Windows 7-based Virtual Desktop Infrastructure (VDI) systems on devices from Dell and Lenovo
Additionally, IGEL Technology will showcase the IGEL Universal Management Suite 5 (UMS 5) software, which comes standard with IGEL UDC, enabling IT organizations to remotely manage any endpoint device running Microsoft Windows 7 or the IGEL Linux operating system. Truly the heart of the managed workspace, UMS 5 is designed to help IT organizations preserve their existing hardware investments by providing a single solution for managing their entire mixed infrastructure end-user computing environment, while reducing the time and effort associated with remote endpoint management.
VMblog: If you would, please explain or give readers a few reasons why your product or service is considered unique?
IGEL: IGEL Technology is an industry leader within the workspace management space, and together with our partners we are driving conversations around the business implications of VDI. One of the things that makes IGEL unique is our focus on making the business case for VDI - for us, it is not simply about IT management, but creating opportunities for our partners to enable their customers to improve efficiencies and reduce costs when it comes to providing their end-users to access to business-critical applications.
Attendees at Citrix Synergy 2016 should also look for an important announcement coming soon from IGEL regarding advancements in virtual desktop delivery.
VMblog: Attendees always enjoy a good trade show tchotchke. Are you guys giving away anything special or interesting this year?
IGEL: IGEL's giveaway for Citrix Synergy will be a fluffy hedgehog toy. This year, we are also partnering with the Nevada Childhood Cancer Foundation and will have a donation jar in our booth to encourage attendees to donate their pocket change. We recently did this during the Citrix Summit event held in January, and raised almost $200 in pocket change for the charity.
VMblog: Attendees like a good party. Are you guys doing anything like that during the week of the event?
IGEL: IGEL Technology will not be hosting a party, but is a Gold-level sponsor for the annual M7 Global Partners Citrix Synergy Party being held on Wednesday, May 24.
VMblog: What are you guys looking forward to most at Synergy this year?
IGEL: This year, we are looking forward to connecting with more partners and customers. We are also interested in getting more clarification on Citrix's renewed commitment to the channel. In our view, education is an important aspect of the sales and marketing process, and we are looking to identify new synergies between our two companies. We know that there are many areas of overlap that we can capitalize on, but we would also like to identify areas where we could further expand our education efforts together in order to build greater credibility, and continue to grow our partnership with Citrix.
VMblog: This isn't your first Synergy event as a sponsor, correct? So what keeps you coming back for more?
IGEL: This is not our first year at Citrix Synergy, and we've been attending and sponsoring this event for many years. What brings us back each year is the strong alliances we have with Citrix and its ecosystem partners.
VMblog: What do you hope to come away with from exhibiting at Synergy? What does event success look like to you?
IGEL: A successful Citrix Synergy means that we will leave having had many conversations with partners, customers and IT administrators who currently face challenges when it comes to running their mixed infrastructure environments. We look forward to demonstrating our proven expertise in workspace management, and effectively communicating the benefits we offer for Citrix and VDI environments.
##
Pretty cool stuff, right? If you are lucky enough to make it out to Synergy this year in Las Vegas, make sure to visit IGEL Technology at Booth #755G. Come check out their thin client devices and their workspace management software solution.